I was raised in a family that has a strong love of baked goods. From very early, I inherited their love of eating and baking sweets. Most of my earliest memories are in the kitchen baking with my mom and brother.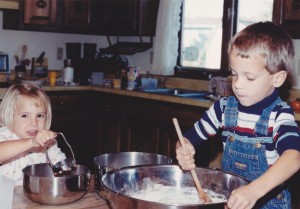 That's where I learned such important life lessons like cookie sheets straight from the oven are hot. And like every other lesson I learned growing up, I had to discover this lesson the hard way, despite my mom's constant warning. Christmas celebrations at my maternal grandparent's house were never without a huge platter of cookies that my Grandma had spent most of December preparing.
As I got older, my mom started becoming jealous of my cookies because they always turned out better than hers. After college, I got a job teaching math at a high school in central Indiana. One fateful day during an ice storm, I decided to try a new technique I had seen to decorate sugar cookies. I knew I had multiple days off work so I pulled out my Grandma's sugar cookie recipe. Of course, I was short a few eggs so I spent most of an afternoon chipping an inch of ice off my car (with a hammer) so that I could get to the store. I think it would have been faster to walk. It was in early February so I made heart cookies and decorated them with royal icing for the first time.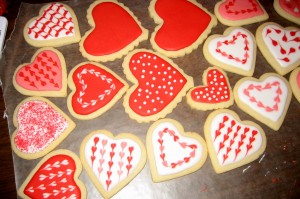 From the very first cookie I was hooked. What started as a fun new decorating technique quickly turned into people requesting cookies for events and eventually paying customers. There became an increasing number of people encouraging me to open a business.
Because of several life changes (mostly good ones), in the summer of 2012 I found myself living in a new city with no job despite applying to every opening in the area. I figured it was the perfect opportunity to start my cookie business.